HAND SCRAPING & ALIGNMENT
Hand scraping may be considered a lost art, but at Precision Service we understand the value and importance behind machine geometry and accuracy. We take pride in our service technicians with a combined total of 250 years of scraping experience.
Hand scraping is a process that uses hand tools known as flat scrapers to scrape metal from a machine tool surface to refine its accuracy, flatness, and appearance. Removing thin metal layers from these surfaces eliminates the high points created by machining and provides enough flatness to allow its surfaces to glide smoothly.
In a technologically advanced and automated world, the labor and time involved in hand scraping machine tools have made it a bit of a lost art. However, Precision Service Machine Tool Rebuilders understands the value and importance of maintaining machine accuracy and geometry. With over 250 total years of scraping experience, our skilled technicians provide expert hand scraping and alignment services for your machine tools. Read on to discover the benefits and case studies associated with these services.
The Advantages of Hand Scraping
There are several advantages of hand scraping tools, such as:
Flatness: It maintains a machine tooling's flatness to prevent rocking and chattering, improve balance, and create true flatness in machined components.
Accuracy: It maintains a machine's accuracy by aligning its components within millionths of an inch, so the parts produced adhere to the tightest tolerances.
Aesthetics: Hand scraping improves the aesthetics of the machine, giving it an attractive texture.
Oil pockets: Hand scraping also creates oil pockets that hold oil on mated surfaces and allow smooth gliding motion between them. If a machine doesn't have these pockets, mating surfaces will stick together.
Longevity: Hand scraping and alignment maintain the consistency, accuracy, and longevity of the machine.
Precision Service Machine Tool Rebuilders can restore your machine's center heights and tool geometry to their original OEM specifications, onsite at your facility. We also offer a 12-month warranty for our services, giving our customers peace of mind.
Featured Rebuild Projects
At Precision Service Machine Tool Rebuilders, we've handled many rebuild projects over the years. Here are the processes we followed for three such projects.
Doosan Lathe
Removed X and Z-axis slides
Cleaned and inspected all parts for wear and damage
Ground X-axis ways
X-axis cross slide was precision aligned to X-axis ways
Ground and refitted binders
Refitted all gibbs to ensure maximum adjustment
Surveyed X-axis ball screw to determine if ball screw needed to be rebuilt before reinstalling
Installed new thrust bearings
Cleaned and flushed lubrication system. Replaced all damaged lines and installed new meters for proper lubrication to the entire machine.
Installed new wipers so ways remain clean and free of major debris
Polished Z-axis bed ways to best condition
Scraped and aligned saddle to bed ways
Customer reassembled machine and powered it up, ready to be put back into production
Mazak Integrex 50YB
Supplied heavy-duty gantry for removal of X, Y, and Z slides from machine. Z-axis ball screw was removed and prepped for shipment to be rebuilt.
Picked up cross slide and saddle from customer
Way ground Y-axis slide to spec
Way ground X-axis ways to spec
Precision aligned X-axis slide to saddle
Scraped X-axis slide to top of Y-axis to ensure a tight precision stack
Scraped Z-axis slide, ensuring everything is square and parallel
Ground and refitted binders after machine was scraped, ensuring a tight, like new fit
Refitted all gibbs with Turcite, giving them max adjustment and the longest possible lifespan
Surveyed all ball screws. They are rebuilt upon customer request before reassembling.
Replaced all thrust bearings and seals, ensuring smooth, accurate movements
Cleaned and flushed entire lubrication system. New lines and meters were installed to assure proper lubrication to all required areas.
Cleaned and polished bed ways
Scraped and aligned Y slide to bed
Reassembled machine, tested all machine functions, ready for customer to demo and run test cuts before putting machine back into full production
OKK VM7-3
All units cleaned and inspected for damage and wear
Way ground saddle ways
Removed old Turcite from bottom of table
Supplied and installed new Turcite to bottom of table
Resurfaced top of table
Scraped and flaked the table to top of saddle ways, keeping four corners "0" and key slot parallel to saddle master way on table
Scraped and flaked gibbs and binders on table, ensuring maximum adjustment
Removed old Turcite from bottom of saddle. Prepped and installed new Turcite.
Leveled machine and surveyed bed ways
Scraped and flaked master saddle to bed ways for flat and parallel fit
Sent X and Y ball screws out for refurbishment
Scraped and flaked gibbs and binders, giving maximum adjustment to gibbs
Precision aligned and installed all ball screws using new thrust bearings and seals
Installed new way wipers
Inspected and repaired lubrication system, assuring proper oil flow to all required areas. Installed new lines and flow meters as required.
Set roller switches, proximity switches, home position, backlash, and tool changer to manufacturer's specifications
Tested all machine functions before sending machine back into full production
Why Choose Precision Service Machine Tool Rebuilders for Your Hand Scraping and Alignment Needs
There are many reasons why Precision Service Machine Tool Rebuilders should be your top choice when it comes to hand scraping tools. Our highly-trained, experienced staff delivers high-quality craftsmanship at cost-effective rates, allowing you to limit machine downtime and maximize productivity. Our technicians are trained in Phenolic, ZX-100, Rulon, Moglice and Turcite, so they have the knowledge to determine which material is best suited for your machine.
Contact Precision Service Machine Tool Rebuilders Today
Hand scraping remains a popular tool maintenance service across many industries. It helps keep machines operating at optimal efficiency and accuracy for as long as possible. If you need expert hand scraping and alignment services, please contact us today.b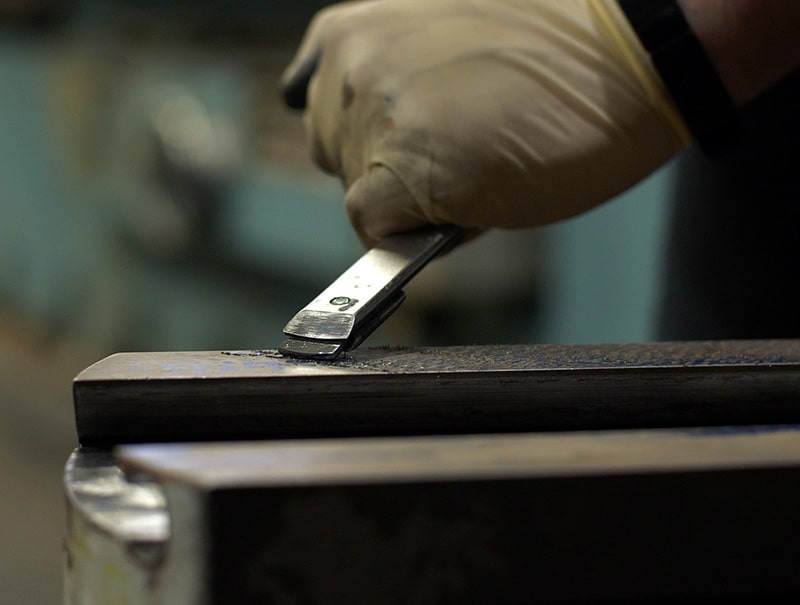 Bringing Your Machine Back to New Factory Tolerance
Our hardworking technicians are expertly trained with Turcite, Rulon, ZX-199, Moglice and Phenol. They are able to determine which material is needed for each specific machine, and then implement the service flawlessly.
-Featured Rebuild Projects
The proper application of these various way materials provide your machine with the following advantages:
Delivers tight tolerances due to geometric precision that aligns components within a millionth of an inch

Ensures that the components of a machine's foundation are mated perfectly for an unparalleled accuracy and longevity

Creates ideal flatness, which removes rocking or chattering in parts
Develops oil pockets, which hold oil on mated surfaces and reduces sticking

Precision Service can restore machine tool geometry and center heights back to original OEM spec onsite at your facility with our 12 month warranty, offering peace of mind.
INTERESTED? REQUEST A QUOTE TODAY ➞