HAND SCRAPING & ALIGNMENT
Hand scraping may be considered a lost art, but at Precision Service we understand the value and importance behind machine geometry and accuracy. We take pride in our service technicians with a combined total of 250 years of scraping experience.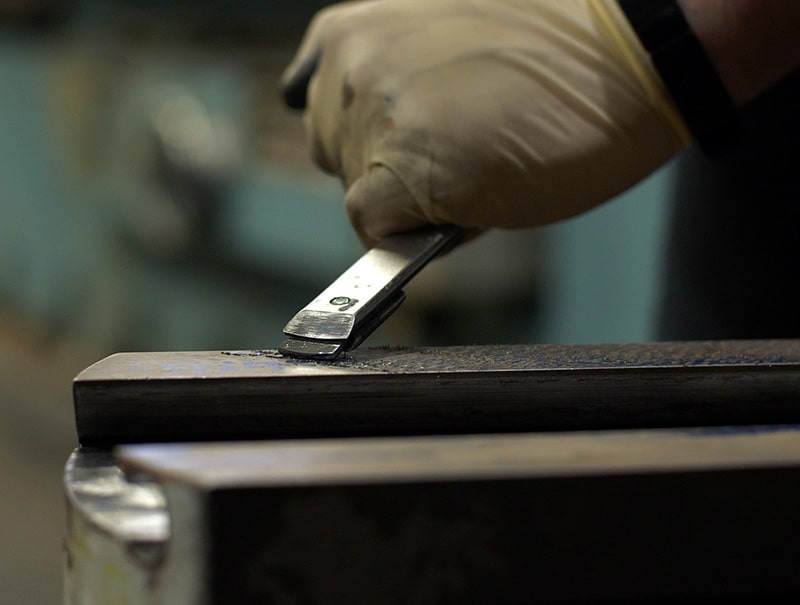 Bringing Your Machine Back to New Factory Tolerance
Our hardworking technicians are expertly trained with Turcite, Rulon, ZX-199, Moglice and Phenol. They are able to determine which material is needed for each specific machine, and then implement the service flawlessly.
-Featured Rebuild Projects
Remove X and Z-axis slides

Clean and inspect all parts for wear and damage

Grind X-axis ways

X-axis cross slide was precision aligned to x-axis ways

Grind and refit binders

Refit all gibs to ensure maximum adjustment

Survey X-axis ballscrew to determine if ballscrew needs to be rebuilt before reinstalling

Install new thrust bearings
Clean and flush lubrication system. Replace all damaged lines and new meters will install for proper lubrication to the entire machine

Install new wipers so ways remain clean and free of major debris

Polished Z-axis bed ways to best condition

Scrape and align saddle to bed ways

Customer reassembled machine and powered up ready to be put back into production
The proper application of these various way materials provide your machine with the following advantages:
Delivers tight tolerances due to geometric precision that aligns components within a millionth of an inch

Ensures that the components of a machine's foundation are mated perfectly for an unparalleled accuracy and longevity

Creates ideal flatness, which removes rocking or chattering in parts
Develops oil pockets, which hold oil on mated surfaces and reduces sticking

Precision Service can restore machine tool geometry and center heights back to original OEM spec onsite at your facility with our 12 month warranty, offering peace of mind.
INTERESTED? REQUEST A QUOTE TODAY ➞